skyHi Digital, Inc.
Contact: "Sky" (Jim Schuyler) play@skyhi.digital
+1.415.759.7337
March 17, 2023 for immediate release
---
Feature Film Stars SFCM Alumni who "Came home to music"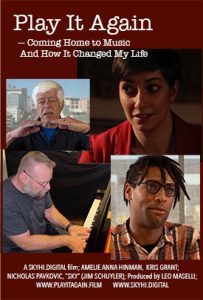 When "Sky" (Jim Schuyler) enrolled in the San Francisco Conservatory of Music's program in Technology and Applied Composition [SFCM TAC], in the first year of its existence, 2015, he knew he would have a story to tell. As a teen-ager he made a choice between a career as a musician and a career as a computer scientist. He chose computers and software. Then, much later, he chose to "come home to music" in the intensive one-year SFCM TAC "Professional Studies" program. And he became that white-haired guy in the first TAC classes of 2016, in a cohort of far younger students.
Filmed at SFCM's Bowes Center in 2022 and 2023, Play It Again tells the stories of four SFCM alumni who, like Sky, returned to music after working in other professions. The film is available online ( https://PlayItAgain.film/ ) and live screenings will be announced on its email list.
Kris Grant started making electronic music and designing sound as a teen. At college age, he detoured into Air Force Intelligence for six years (completing three tours in Afghanistan). Kris excels in real-time improvised electronic music performance. He returned to music in the TAC undergraduate curriculum. Kris works in sound design for Meta, and also teaches Ableton Live music production classes at SFCM. Professionally he is known as Idea Unsound.
Amelie Anna Hinman loved drumming and percussion at a young age, but later became a teacher in her native Austria. In her first year in the US she entered the four-year RJAM program, becoming the first woman to graduate from this program. She is known as Amelie Anna in the online world.
Nicholas Pavkovic trained as a pianist, became a designer and practitioner of the digital arts, and has repeatedly returned to composition and performance. Winner of the 2013 Highsmith Award for his piece "Angelus Novus," he is also Executive Director of the Ross McKee Foundation, which advances the cause of piano performance centered on the San Francisco Bay Area.
Jim Schuyler ("but call me 'Sky'") became intrigued by computers when they were as big as a room, and had a varied career in a dozen software startups. The one-year postgraduate PSD program was a perfect fit for him. Following completion of the TAC PSD, he has been scoring and recording music for independent films. He is Executive Producer of "Play It Again" which was largely filmed on iPhone. The film-making process took 12 months, involved a half dozen crew, up to 4 cameras on set, and was a first-time feature for Sky. The crew members had all been involved in the Scary Cow film cooperative, which had made 500 films over a 10-year period. Most of the film was recorded at the SFCM Bowes Center and overlapped the 2022 COVID period.
Sky says about the process — "As a documentary, the narrative was created in real time as we filmed the interviews. Each personal interview took 1 to 2 hours, from which we extracted 10 minutes or so of individual story. Those stories became the 'vocabulary' I used as I assembled the 70-minute feature film." In addition to the story-telling and interviews, the feature-length film is filled with music written by its four stars.
The film is streaming now on Vimeo.
---
QUOTES:
AMELIE HINMAN: "I make music because I need to connect to people… I personally need to make music with other people… that is my way of connecting… that is my way of expressing myself. It will always be about connecting to the human next to me.
NICK PAVKOVIC: "I consider myself an introvert. Making music is a very personal thing. The ultimate thing is when they (performer) make it their own; I have a vision regarding he piece, but I also want people to "own" it. … once you've internalized this piece you almost feel like you wrote it. That's what I want for people with my music — I want them to have that experience."
KRIS GRANT (AKA Idea Unsound): "My craft being electronic music production; it's a very solo enterprise. I'm generally the only person involved in the creation of the music. Part of my goal as an artist is to take techniques that other people can't express and create a way for them to experience … take experiences and make them for other people (the general audience). That involves me going deep inside myself."
SKY (JIM SCHUYLER): "I had a career in engineering. You can write a program to do practically anything you can conceive of. What my teachers didn't recognize when I was young was that I probably should have studied composition. For me software was (my way of) building things. For me, writing music is the same process. Writing it and "seeing it go off and do things.""
LENNIE MOORE (SFCM faculty – commenting, in the film, about composition and careers in music): "We make things. You can make a company, a product, a symphony, a band. Something we all share is this creative endeavor … conservatory training helps people find ways to make stuff!"
MATT LEVINE (SFCM faculty – about coming home to music): "They had a certain level of life experience that let them focus on what was important to improve their craft. They had a  sharper sense  of what they needed to learn."
TAURIN BARRERA (SFCM faculty and TAC program director): "It's similar to traveling to a city you haven't seen in 10 years. … It's this giant metropolis and so many new roads… Music can be like that… this kind of infinite landscape to explore that over time is always expanding. Technology  has made music-making more accessible."
---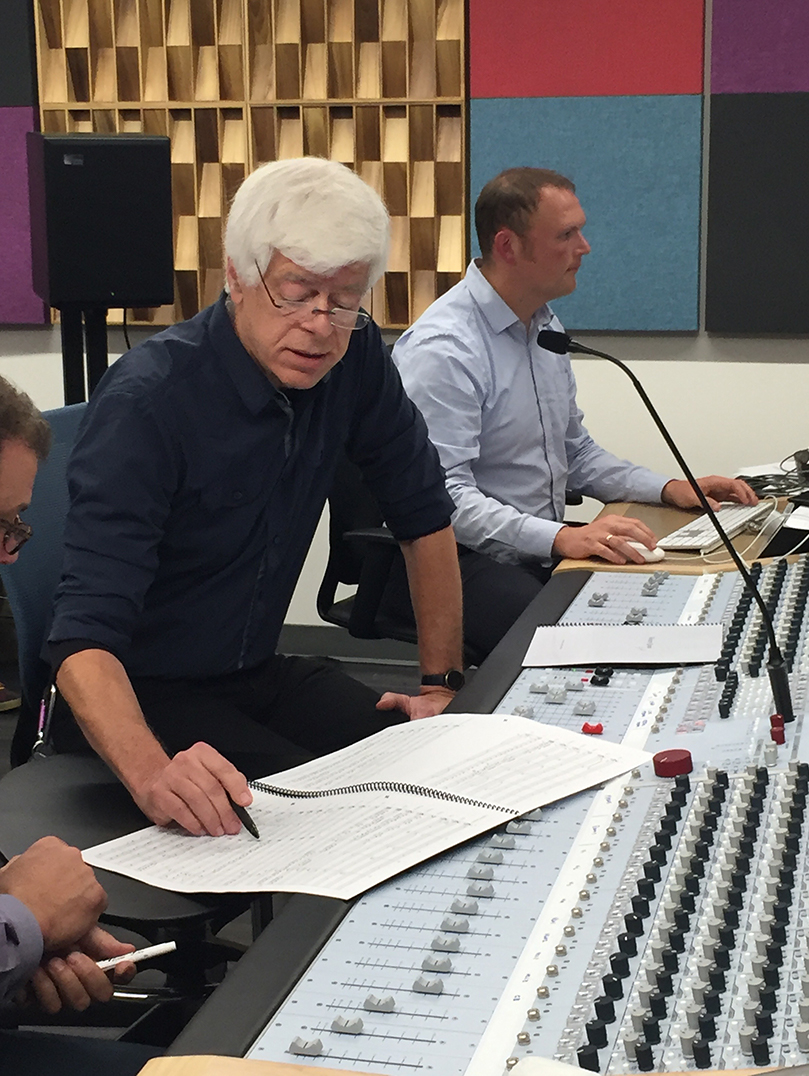 PHOTOS (click to view directory) All photo credits should read
Photo(s) are used courtesy of SkyHi Digital, from the film Play It Again – https://playitagain.film/